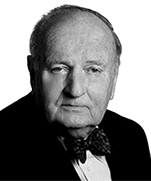 As former Chief Justice of the Tax Court of Canada, the Honourable Donald G.H. Bowman has extensive experience in resolving tax disputes. He is former counsel to Dentons' National Tax Group and shares his expertise with members of the group as a mentor and adviser.
Recently retired, Mr. Bowman worked to enhance Dentons' ability to reach early resolution of tax and related disputes for our clients. His practice at Dentons consisted of giving advice on tax matters to clients, lawyers in the firm throughout Canada and to lawyers in other firms.
Mr. Bowman has spent his entire legal career as a tax litigator. He joined the Federal Department of Justice – Tax Litigation Section soon after his call to the Ontario Bar and was appointed director in 1968. He joined the law firm of Stikeman, Elliott, Robarts & Bowman in 1971 and was a partner there until his appointment to the Tax Court of Canada. He was appointed Judge of the Tax Court of Canada in 1991 and Associate Chief Judge in February 2000. He was appointed Associate Chief Justice in July 2003 and Chief Justice in February 2005. Mr. Bowman joined Dentons in July 2008.